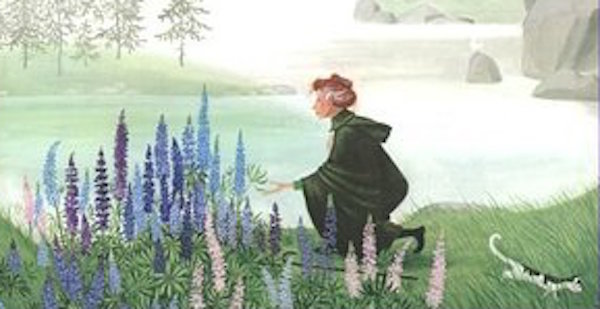 Students watched/listened to the story, Miss Rumphius, on Book Flix
IN THE STORY, MISS RUMPHIUS LEARNED/REALIZED FROM HER GRANDFATHER'S STORIES THAT SHE WANTED TO LIVE BY THE SEA, SEE MANY PLACES, AND TO MAKE THE WORLD A MORE BEAUTIFUL PLACE. WHEN SHE GREW UP, SHE ACCOMPLISHED ALL OF HER DREAMS AND THEN PASSED ON HER STORIES TO HER NIECE (THE NARRATOR OF THE STORY) AND TO HER VISITORS. MISS RUMPHIUS MADE THE WORLD A MORE BEAUTIFUL PLACE IN MANY WAYS, BUT PRIMARILY BY PLANTING LUPINES EVERYWHERE.
After the story, I proposed the following question to the students, "How will you make the world a more beautiful place, now or when you're older?"  Students did a 'quick-write' to answer that question.  The room grew silent.  Students took this assignment extremely seriously and everyone wanted to share their responses.  I was in awe.  These second grade students have such kind hearts.